My Best Friend's Stepfather Serial, Complete Novel
My Best Friend's Stepfather
She's always craved his touch…even though it's forbidden.
When Ash is assigned her first feature as a reporter, it should have been simple: interview a real life Dominant for an article about BDSM. But her subject is none other than Darien Gallagher, her best friend's stepfather…and it'll be an interview she never forgets.
What started for Dare as a lesson in sensual domination suddenly has become so much more. He can't deny the spark between them, even though he knows she's completely off limits. With every seductive word, every lesson, Dare tests Ash's resolve and pushes her boundaries. But at the same time, her boss Adam has her craving things she shouldn't.
While Ash finds herself dreaming of both men, a dark secret threatens to destroy everything. But how can she hold onto a relationship that isn't even real?
The newest romance from Opal Carew, My Best Friend's Stepfather is everything fans desire!
Order Ebook
St. Martin's Griffin
20160112
Order Print
St. Martin's Griffin
20160112
ISBN-13: 9781250052865
ISBN-10: 1250052866
Order Audio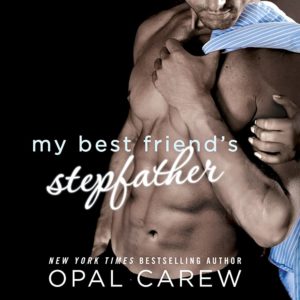 Macmillan Audio
Narrated by: Julia Duvall
Length: 5 hrs and 15 mins