X Marks the Spot
Opal Carew takes desire to a whole new level in her latest erotic, standalone romance!
Abi has been in love with Del for years, but they never got around to acting on their mutual attraction. And then she met and married his best friend, Liam.
But when Abi and Liam's marriage falls apart, Abi decides to take control of her life and find her happily-ever-after with Del. So when they're all staying in a country inn for her brother's wedding, Abi decides to slip into Del's bed and seduce him…except she accidentally ends up in Liam's instead.
Liam never stopped loving Abi, and he plans to use every blazing hot trick in his book to keep her in his bed…even if it means sharing her with Del.
X Marks the Spot is emotional, sexy, and is Opal Carew at her best!
Order Ebook
St. Martin's Griffin
20180403
Order Print
St. Martin's Griffin
20180403
ISBN-13: 9781250116802
ISBN-10: 1250116805
Order Audio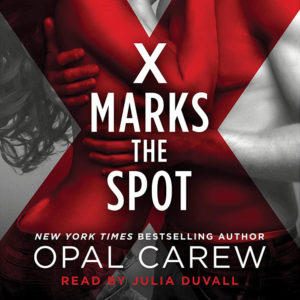 Macmillan Audio
Narrated by: Julia Duvall
Length: 6 hrs and 48 mins