His To Command Serial, Complete Novel
His To Command
First published as a six-part e serial novel, Opal Carew's His to Command is the scorching tale of one woman's surrender at the hands of a dominant billionaire. Now available for the first time as a complete book, this edition features sizzling new bonus material.
Meet a man who's gorgeous, wealthy, powerful, and who demands just one thing—his lover's complete submission. Now she's about to place herself under his command—heart, body and soul.
Kate is a modern businesswoman who knows exactly how to run her well-organized world. But underneath her professional exterior lurks a secret that she's been running from for years—a fierce desire to be dominated that both exhilarates and terrifies her. And there's only one man who's ever tempted her to lose control.
Powerful executive Matthew Pearce gave Kate her first taste of what it means to surrender completely at the hands of a dominant man, and she's never been able to forget. Though she's spent years trying to outrun her feelings for him, a chance encounter changes everything . . . and this time she might not be able to escape. Deciding to give in to her deepest desires, Kate agrees to spend a week at Matt's mansion exploring her submissive side under his masterful instruction. Just when she starts to fall deeper and harder for him than ever before, a terrible secret from his past threatens to tear them apart, and Kate must decide whether to finally trust Matt with her heart . . . or leave him behind forever.
"Fresh, exciting and extremely hot, with characters you'll fall in love with. Absolutely fantastic!" –Fresh Fiction
Order Ebook
St. Martin's Griffin
April 16, 2013
Order Print
St. Martin's Griffin
April 16, 2013
ISBN-13: 9780312674632
ISBN-10: 0312674635
Order Audio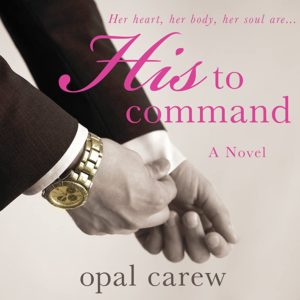 Macmillan Audio
Narrated by: Clarissa Knightly
Length: 7 hrs and 13 mins