His To Claim Serial, Complete Novel
His To Claim
What if you could have everything you've always wanted, but it cost you the life you've always known?
Rafe Ranier was my boss and secret crush. A rock musician by night and head of a billion dollar empire by day, Rafe could have any woman he wanted. But I was just the shy secretary he never noticed. For years I obsessed over him, until I finally realized I had to walk away. I needed to leave my secure life behind to discover who I really was.
I never expected Rafe to follow me.
Now I'm on the road with his band, Savage Kiss, and all my secret fantasies are coming true. But I fear I've made a huge mistake, because if I get any more attached to a man I can never truly have, my heart will be broken beyond all repair.
"Utterly hot, intense, fierce, and passionate, Opal Carew's writing is amazing. Top pick!" —The Romance Reviews
First published as a six-part erotic serial, His to Claim is the intoxicating tale of a woman torn between a tattooed, bad boy rock musician and the life she's always know. Now available for the first time as a complete book, this edition features sizzling new bonus material.
Order Ebook
St. Martin's Griffin
20140902
Order Print
St. Martin's Griffin
20140902
ISBN-13: 9781250052827
ISBN-10:
Order Audio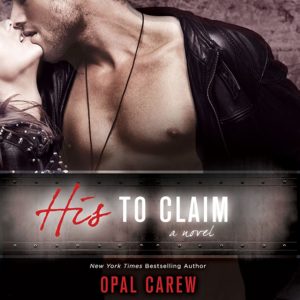 Macmillan Audio
Narrated by: Julia Duvall
Length: 5 hrs and 45 mins